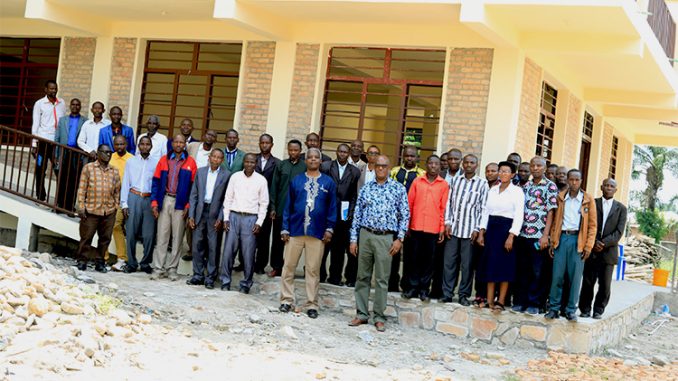 In 10th February 2023, the Diocese of Rumonge had an organised Conference in Amahoro Birimba Hospital venue with an aim of launching the new development project. The project is Building Salt and Light Community (BUSALICOM) Project which can literaly be named "MURIKIRA IKIBANO in Kirundi Language". The project shall be implemented by the Diocese through CCMP, Masculinity Transformation and Journey to Healing Approaches in Rumonge, Bugarama and Buyengero communes.
The Conference convened several development stakeholders from colines, Non-Goverment Organisations (NGOs) including Red Cross, GVC, ZOA Many Church denominations attended as well as the Roman Catholic and Pentecost Churches, security officials, provincial feminists represetatives parpendicular with the provincial youths and peace participated in the Conference. The Head of Rumonge province government official, the Provincial Comissioner(Buramatari), was represented by his Provincial Legal Officer.
In describing the project, the Bishop of Rumonge Diocese unfolded main objectives of the project. Some of such objectives include to position the local Church at the center of holistic community change by means of mobilising people to be salt and light of the world and to come-up with clear strategies driving an immediate social transformation.
He added that, the Diocese prefers to play a role of converting the community to be the souce of change that population need to experience. This aim shall be effective through positioning the Church to be the light and salt of the world. The Diocese needs to see the voictims of violations give out testimonies to express that they have been supported in their tough moments. It needs to facilitate families to undergo self development. The Diocese focuses to the situation in which all people live in a peaceful environment. Also, the Diocese intends to win the youths' minds to believe that they have a corner-stone role in peacebuilding and development process.
The Diocese is greatful to the government for granting an authorization for the functioning of the new Health Centers established by the Diocese in Kimate, Cewe, Mubira, Gitaba and Gisagazuba.
The Rumonge Province Commissioner (Buramatari) comforted Rumonge Anglican Church to intensify efforts of developing the community where it works. He exposed the fact that the Diocese is in practical orientation for community change as the evidence is obviously witnessed in several places. While assuring government cooperation with any development stakeholders, the Provincial Commissioner argued for the special call to other Churches in Rumonge to learn from Rumonge Diocese.
He affirmatively disclosed that there shall be a conducive communication between the government and the Diocese, particularly for crushing all barriers likely to hinder implementation of the project. Workers in the established project should be salt and light of the Earth and we should think why did Jesus say salt and not some sugar? The reason was to ensure preservation of the project as to avoid from its destruction, he added.
He officially launched the BUSALICOM Project and insisted that « tukwiye kugira imigambi idushitsa kw'iterambere rirama, turishire mu ngiro twitegurira ukugaruka kwa Yesu "nk'akanyoni kanywa amazi karaba hejuru" »