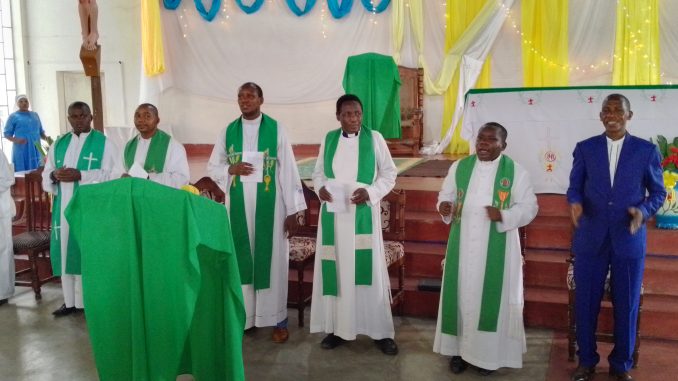 Praised be the name of The LORD for He is One God the Creator of everything; worthy to true worship. In 27th January 2023 there was an Ecumenical Church service convened at the Roman Catholic Church in Rumonge provence. The denominations in such congregation were the Roman Catholic Church (R.C), the England Catholic Church (Anglican Church) and Vivante Church. It was a great symbol of sharing the same source of salvation, Jesus Christ. They believe that there is only One Church established by Jesus and there is no reason of disregarding each other as far as they hope to live in the same Kingdom of God.
Ecumenism between the three denominations in Rumonge province was initiated by Church leaders in the three denominations. The initiative got support from Church members as they have been participating in all scheduled Ecumenical Services including such conducted in January 22, 2022 at the Anglican Cathedral Church (Cathédrale Kristo Umwami). The message of the day was a calling to unity of all believers because Christ is in unity with God as Jesus states in the Gospel according to John 17:11 and Romans 8:31-39.
For few years ago, Ecumenical Services were conducted in Rumonge between the R.C and the Anglican Church. The joining of Vivante Church in Rumonge Christians Ecumenical Service marks a ray of hope that other denominations would join and share their Spiritual gifts for Christ.  The core purpose of Ecumenism is to ensure love and unity among of Christians as well as to share the gifts God vested into His people for discipleship. The Ecumenism invites all believers to join the Universal (Catholic) Church to glorify God through thanksgiving, praising and worshipping Him.
The Revd. Canon NDIKUMAZAMBO Emmanuel, the Dean of Rumonge Anglican Cathedral Church, in his sermon on the Gospel of Christ as written by John 13:34-35 and 1Corinthians 13:1-13 said that, in Burundi there is a special day of celebrating unity among of the citizens in every year (5th February). Church decision of preparing a special day to expose the unity of Christians regardless of some sorts of differences in worship accelerates a spirit of holiness.
Thomas Cranmer did not change the core of Church teaching including catechism, creeds and the LORD's prayer which unite us in the main commandment of loving God and people, he said.
Ibintu vyose bizohera ariko urukundo ruzogumaho ibihe vyose kandi ni ho bose bazomenya ko tur' abigishwa biwe, he added.
Also, Father NDAYIKEZA Didier of the Roman Catholic Church in Rumonge parish clarified that God made everything in a beautiful way. The LORD created man and woman differently in order to unfold  divine purpose through them.
He added that, in decorating a place it requires to mix colours of lights, flowers and cloth-pieces. Similarly, God created people in defferent ways as it could be seen in according to different countries. A Chinese, Korean, American and nationals of other countries look differently from each other but all are people from the same Adam. This truth reminds us that, all who believe in Jesus Christ can be seem differently but we form the same body of Christ as St. Paul wrote to 1Cor. 12:12.
Additionally, Revd. Pastor NZEYIMANA Salvator, a leader of Vivante Church in Rumonge and other southern Burundi provinces, emphasised that it is very valuable for the brethren to live together in unity. He quoted Psalms 133:1-3 that,
"Behold, how good and how pleasant it is for brethren to dwell together in unity! It is like the precious ointment upon the head, that ran down upon the beard, even Aaron's beard: that went down to the skirts of his garments;…" (King James Version)
After his quote, the Pastor added that, it shall be an everexperienced gladness when we will meet in the everlasting Kingdom of God. He wished the congregation to stay in the hands of God particularly by responding to the Ecumenical Service as organised by their leaders.
Christians played a great role in singing several songs and hymns, dancing in both modern and traditional styles, praying and thanking God as a manner of expressing God's blessing into their lives.